Did you know… The 17 categories listed on our page total 12 years of blogs and research from our volunteers!
Experience Blogs
We all need a little perspective sometimes and here at Mission: Milspouse, we have everything from sage advice to your spirit animal in blog form. We understand that the voices of military spouses and supporters are the best kinds of companions on this journey. Need ideas? We got them. Need resources? We got those too. Our writers have walked before you, they stand behind you, and with each blog, they will walk WITH you!
One of the most important parts of supporting your service member as they serve our country is "holding down the fort."  From organization, to parenting, to a little bit of humor, we've got your six. 
Just because you are a milspouse doesn't mean you have to put all your goals and career aspirations on hold. We want to give you the tools to make your dreams happen.
Here at Mission: Milspouse, our partners know the very hearts of military spouses and supporters.   They, in turn know how committed we are to YOU Milspouse, You are our mission!
Expert Blogs
From job search advice to disaster relief, our Expert bloggers have something for everyone. We have a whole Brigade of military spouse support resources all on one page. Maybe you are looking for rental advice as you PCS, or maybe you need mental health resources. Perhaps you just need a pep talk from a career expert, or maybe you just want to lace up for the Army 10 Miler and need a plan! Find your Expert and let the resource recon begin. Want to know more about the empowering experts behind-the-screen?  All of our Expert profiles are listed on our Band of Blogger page.
To help ease some of the unknowns that come with retirement or separating from the military, here are some comprehensive resources and blogs to make you feel equipped and excited for your next chapter of life!
Relationships are full of communication, compromise, and change. We have more than a decade of experience navigating these situations and are here to share our professional and personal knowledge on various relationship topics.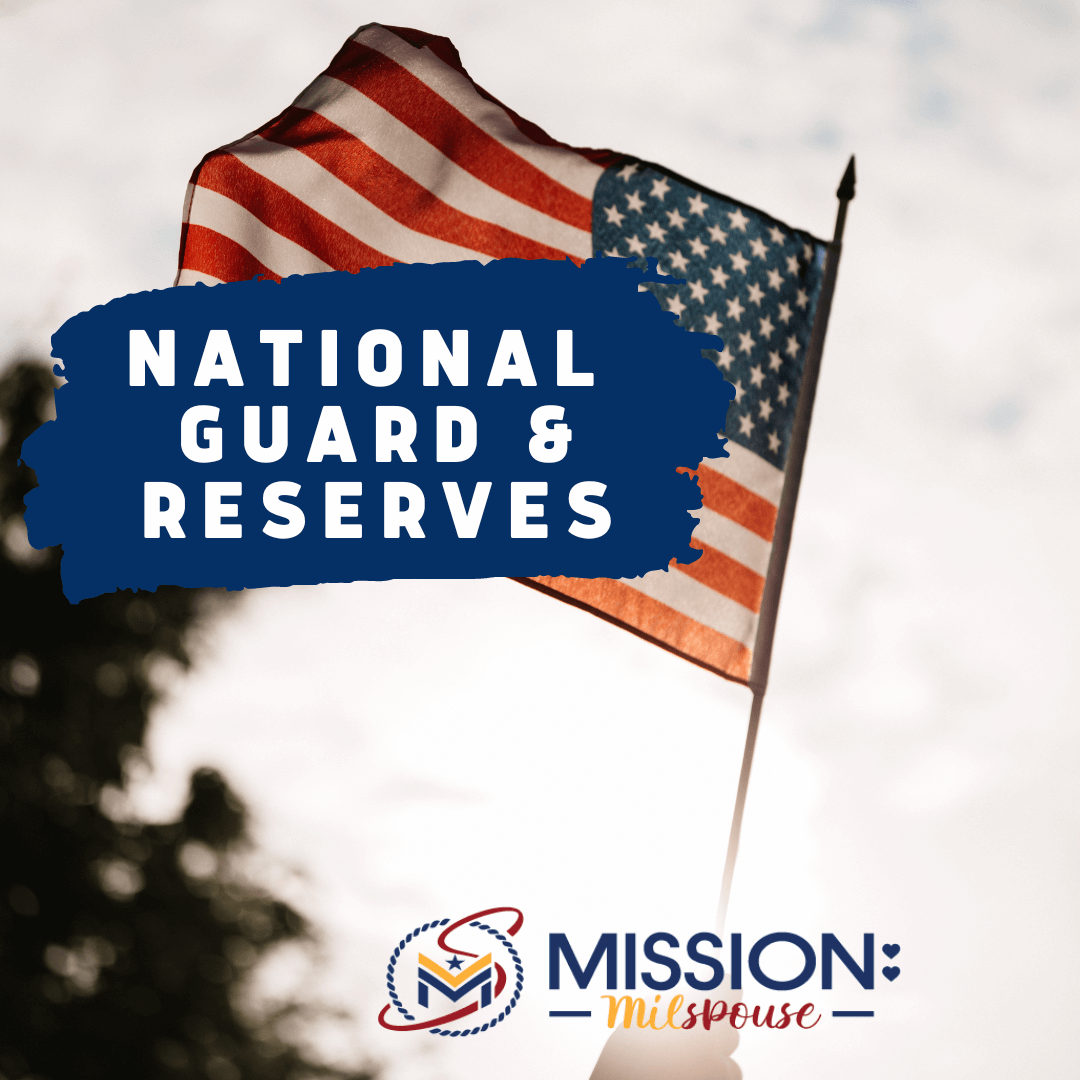 We know you aren't "just like everyone else." We here at Mission: Milspouse see you and support you right alongside our active-duty component! Check out the experiences of fellow NG/R spouses and organizations that can support you in your journey.
DEPLOYMENT
There may be no better time for empowerment than when faced with a looming deployment or when you are in the thick of one.
Join our Mission: Milspouse team as we share all our tips, lessons learned, best practices for coping, and our hearts in solidarity with you in all things deployment. Whether you are preparing for your first one or you navigating your 7th, we have the resources you need to thrive in one of the most challenging aspects of milspouse life.
Our resources span the gamut: From that first moment when your service member says "I've got news," to establishing a battle rhythm in those first few weeks, to parenting solo, and to reintegrating after that homecoming kiss… We have resources to guide you every step of the way. We are raw, vulnerable, experienced, and ready to support you through this season!
Military Life is what binds the our community together with its wildly unique lifestyle. If you are looking for info about anything related to military life, you have come to the right place.
You wonder, do you still have a place in the military community? The answer is a loud resounding yes! From everyone here at Mission: Milspouse, we thank you and honor you for your time in service.
Never be the last to know! Stay up to date on all military and military-related news! As a bonus, wow your friends with quirky history trivia in our "On This Day in History" segment! News 6: Where Information Empowers. 
PCS
(Permanent Change of Station)
Ah yes… The blessed PCS! It is an intense time of adventure, uncertainty, and new beginnings.  When your service member comes home with the words "we got orders," you probably immediately begin making a mental list of all the PCS prep you need to do. We get it! It's so many things, and none of us want to forget an important part. But we want to take some of the guesswork out of it, so check out our latest PCS features from our blog, and don't miss our Ultimate PCS One-Stop resource as well.
Whether you're going down the road or across the globe, Mission: Milspouse is the perfect travel companion.  Our team of writers know the pitfalls of last-minute plans, leave dates constantly changing, and TDYs popping out of the blue and has kept flexibility in mind. 
Find resources to get you on the right path of financial stability, accounting lingo and literacy to advocate for yourself and your dollar, and even how to work the credit card game as a military family.  We help your money work for you at Mission: Milspouse.
Get your passports ready! You're headed across the pond, any pond, to Outside the Continental United States! From the beginning of your journey to your trip back to the continental U.S., we have the information you need.
Health & Fitness
Even under the best of circumstances, striking a balance between "real life" and focusing on health and fitness is no easy task. Fold in military spouse life, and it kicks that challenge up a notch!
This category will give you insight from a milspouse perspective, including workouts, celebrating victories (large and small), and how to put your health as a priority, no matter what milspouse life throws your way.
Trust us. These great resources will make you "sit-up" and take notice. Don't "weight" too long or "waist" any time.  "Run" through these blogs. We are serious. "Jump" to it.
PS: Don't skip leg day.
Need to take your info search even deeper? Check out our extensive library of essential resources!
Mission: Milspouse is a
501(c)3 nonprofit organization.
EIN Number: 88-1604492
Contact:
hello@missionmilspouse.org
P.O. Box 641341
El Paso, TX 79904