Did you know… Cumulatively, our Mission: Milspouse Command Team has 159 years of military spouse experience and 68 PCSes under their belts!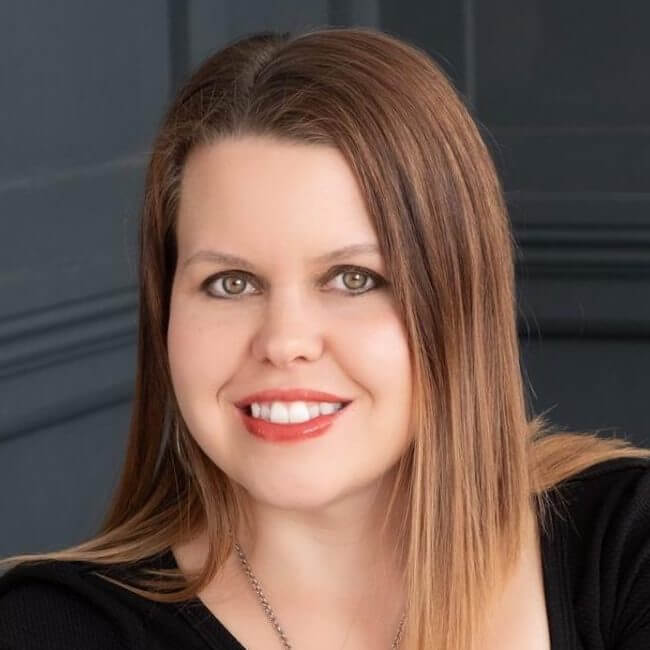 Sharita Knobloch, EdD
Executive Director
Dr. Sharita Knobloch has been married to her beloved infantryman husband for 12 years. She holds a Doctor of Education in Community Care and Counseling: Pastoral Counseling from Liberty University.
Sharita is mama, a smallish dog owner, aspiring runner, writer, speaker, and spiritual leadership coach. She has been with Mission: Milspouse (formerly Army Wife Network) since February 2014. In 2020, she was named Armed Forces Insurance Fort Bliss Military Spouse of the Year.
She has recently returned to the working world and is a Dissertation Chair at Liberty University Online in the Department of Community Care and Counseling. Sharita also serves as the Military Spouse Liaison for Katie's Way dTMS clinic in El Paso.
Sharita gets really excited about office supplies and journal shopping, is a certified auctioneer, overuses hashtags on a regular basis with #NoShame, and frequently uses #America! as a verb.
Jolene McNutt
Deputy Director
Jolene has been married to her extroverted husband, Phil, for 14  years. He is marching toward the retirement finish line after 22 years of active-duty military service with the Army. Jolene works for Tutor.com to help military families get connected with no-cost online tutoring services (Kindergarten through Bachelor level!) funded by the Department of Defense. Jolene and Phil have a son in middle school who loves LEGO, playing his trombone, and board games. They also have a weimaraner, Max, who is the most demanding personality in the household. He keeps the whole family laughing.
Jolene enjoys traveling, reading, and making allergy-friendly recipes for Finn. Despite her introverted nature, Jolene loves hosting friends and family. You can find her volunteering or hiking with Max during her spare time. Find her on Instagram @jolenemichelle1.
Sarah Robichaud
Director of Administration
Sarah is a Maryland native who married her husband, Andrew, in 2012. Since then, she has had the opportunity to live in Georgia (twice), Germany, Texas, Virginia, and now Michigan. Sarah holds a Bachelor's degree in Psychology and a Master's degree in Marriage and Family Counseling.
Sarah has been a part of Mission: Milspouse for almost three years and has been a follower of the blog and podcast for much longer, dating back to her early years as a newbie milspouse. As someone with no prior military knowledge, Sarah used Mission: Milspouse's resources to learn how to navigate this crazy world that she "signed up for." Today, it is her passion to provide those resources to others. Sarah also moonlights as a Social Media Director for a virtual marketing company.
Sarah is rocking the work-from-home life while raising two amazing children, Emily (8) and Logan (5), and two fluffy dogs. In her free time, Sarah enjoys running, reading, puzzling, and taking naps. She is also an avid traveler who most likely has her next three vacations already mapped out. 
Kathleen Palmer
Director of Content
Kathleen is an educator and project seeker from Texas. In her 25 years as an Army spouse, Kathleen has taught and coached in six different states and Germany. Kathleen has a big heart for both Army families and soldiers, having served as a Soldier for Life counselor in both Germany and Korea. Her favorite part of Army life is her acquired community of battle buddies!
Kathleen loves words (both speaking and writing them) and has contributed to AWN, NMFA, The Fort Hood Sentinel, The Army Spouse Handbook, Inside Abu Ghraib, Memoirs of Two US Military Intelligence Officers, and The Army War College at Carlisle. Her favorite writing piece about being an Army wife is "The Lady in the Grey Suit" which was published in 2015 in Proud to Be: Writing by American Warriors (Vol.3).  You can find her on Instagram, Facebook, or on her website, Life Is Messy, Love Big. Just like Kathleen, the site is a WORK in Progress!
Chloe Sardinas
Deputy Director of Content
Chloe is a Florida native who loves all things that come with beach life! She married her husband in 2018 and has had the opportunity to live at Eglin AFB, Fort Walton Beach, Florida; Fort Carson, Colorado; and Fort Leavenworth, Kansas. She attended the University of Florida (GO GATORS!) and received a Bachelor's degree in Anthropology and a Master's degree in Health Education and Behavior. Because two degrees weren't enough, she also received an MBA from the Florida Institute of Technology.
She loves exploring with her husband and 2-year-old daughter (Avery) and is expecting another little one soon. She's currently a SAHM who can be found working out or walking to the playgrounds around Fort Leavenworth! Her weekends are filled with family adventures to all the local events.
Emma Tighe
News 6 Correspondent
Emma is a lover of news, humor, and writing, making her position of News 6 correspondent quite literally a dream come true.
She hails from absolutely nowhere and everywhere, as she was an Army brat. Emma has been an Army spouse for 11 years and has five children, whom she homeschools. Somewhat successfully, depending on the week.
In college, her choir director said she should've majored in comedy. Her theory professor told her she should've majored in writing. They must have been right, as she is still attempting to do both.
Emma and her family have lived in five different bases (but eight separate moves and, yes, this is important to her) and currently call Fort Leavenworth, Kansas, home.
Emma is an active volunteer, believing that information is power, and the best way to empower new or struggling spouses is to provide them with resources and tools to learn how to advocate for themselves and their families. You can find her on Facebook and Instagram under her page, Rolling Along.
Morgan Ingram
Content Curator
Morgan grew up in Virginia near Fort Gregg-Adams (formerly Fort Lee), and she vowed she would never marry a military man. Well, the joke's on her. She met her now-husband at church in 2019 and has been married to her military man for three years. They have three dogs that keep them busy and highly entertained, and they are looking forward to growing their family.
Morgan has a certificate in graphic design from Texas A&M and is eager to continue her education. She enjoys sharing life experiences with others and has a heart for new military spouses just learning how to navigate military life. She has been heavily involved in church ministries most of her life and mentored a young girls class for several years. As a homeschooled kid, right after graduating Morgan started working at the Home Educators Association of Virginia, a nonprofit organization established to help homeschooling families understand homeschool laws and provide support during their journey.
Morgan loves serving in her local church playing the piano, singing, and mentoring others. She loves home decorating, thrifting, anything to do with coffee, and planning and hosting events. She is very excited to be a part of Mission: MilSpouse!
Manda Lynn McVey
Director of Podcast Production
Manda Lynn met her husband when they were 12 years old. After graduating from high school and leading separate lives, they found their way back to each other, bringing her into the military community as a late-career spouse. They have one daughter together, and Manda Lynn has two amazing bonus kids.
During her almost seven years as a military spouse, Manda Lynn has been named Armed Forces Insurance's 2022 Fort Polk Spouse of the Year and become a Spouse Master Resilience Trainer, Army Family Team Building Instructor, Holistic Nutrition Wellness Practitioner, Behavior Change Specialist, Fitness Nutrition Educator, and Yoga Meditation Instructor with more than 3,700 volunteer hours under her belt, leading military spouses to reconnect with their intuition to achieve overall wellness and resilience through a variety of modalities.
A resourceful person, Manda Lynn finds joy in sharing resources and knowledge with fellow military spouses and the community off-installation. Bringing resilience, wellness, and resources to the military and first responder community is something that comes to her naturally. Turning it into her full-time job has been a dream come true. You can learn more about Manda Lynn here.
Callie Bunter
Deputy Director of Podcast Production
Callie is a history buff and a natural storyteller who loves meeting people and learning their stories. She was born and raised on the Mississippi Gulf Coast, where her Seabee is currently stationed.
Callie has been a Navy spouse for 13 years and together, they have a 12-year-old daughter and four Golden Retrievers who always keep her on her toes. She works as a Financial and Administrative Management Specialist and spends time volunteering in what spare time she does have.
She works diligently to create community and help build a strong foundation for military families to stand on by providing resources and volunteering with organizations that strive to support military spouses in navigating this crazy, beautiful life.
Callie loves to cook and try new recipes and one of her dreams is to write a cookbook with some of her favorite recipes. You can find her on Facebook and Instagram under her handle callie.r.bunter. 
Brittney O'Keefe
Audio Engineer
Brittney is an artist, graphic designer, and painting teacher residing in the wonderful state of Colorado where she lives with her Army-veteran husband. She received her BFA at Columbia College Chicago and previously worked in the professional theatre world. She also enjoys editing audio, music composition, and music production. You can typically find her trying to garden in the short growing season of Colorado and hiking in the Rockies. Even though her husband is not active duty any longer, "Once a milspouse, always a milspouse."
Chrissy Gibbs
Director of Development
Chrissy married her husband in 2010 and jumped right into her milspouse role. She knew that life would be more adventurous and sometimes more difficult, but it would always be worth it.
She had previously received her teaching degrees from Niagara University in Special Education and spent a few years teaching, but once she began having children, she chose to put those talents to work in her own home. Chrissy is a mother to four energetic boys and one husky pup (also a male), so you could say she's the queen of the castle! Chrissy and her family are currently living in Germany.
In her free time, you can find her working out, at a playdate with close friends, on the hunt for the next geocache, or hiding away binge-watching her favorite guilty pleasure TV shows.
KateLynn Heavilon
Partner Relations Coordinator
KateLynn was born and raised just outside of St. Louis, Missouri. She met her Army reservist husband while KateLynn was pursuing her undergraduate degree. Her husband transitioned to active duty shortly after they married and spent time at Fort Hood, Texas, before an MOS change and move to Fort Bragg, North Carolina. Fort Bragg was a blessing for KateLynn as she found her footing as a milspouse and the difference she could make for the military community.
Her husband then volunteered for Drill Sergeant School which led them to their current duty station, Goodfellow AFB, Texas, where she was named the Armed Forces Insurance 2022 Goodfellow AFB Spouse Of The Year. 
KateLynn, her husband Justin, and their two rescue pups, Colt and Taurus, are very excited to begin their next adventure in Germany! She enjoys spending time with their rescue dogs, being outdoors in nature, and doing DIY projects. 
Angelia McMichael
Partner Recruitment Specialist
Angelia married her best friend and high school sweetheart, Bobby, in 2008 in their home state of Oklahoma. She has had the unique perspective of being both an Army reservist spouse (2008) as well as an aactive-duty spouse (2010).
Angelia and her family currently reside in North Carolina, where her husband of 13 years works as a Civil Reconnaissance Sergeant at Fort Bragg. She is a full-time mama to four amazing, and sometimes wild, kiddos. She is also a "parent" to a rambunctious German Shepherd, Delta, and a sassy cat, Poppy. You will often find Angelia adventuring with her family and friends or trying to sneak in a quick nap.
Angelia attended Rogers State University, where she obtained her EMT certification. She hopes to return to school soon to work toward a nursing degree.
Kelsey Testa
Grant Writer
Kelsey is an Orlando native (though Alaska will always be home), has been married to her hubby since 2012, and has been a part of the active-duty military community ever since.
Kelsey holds a Master's of Science in Health and Human Performance in which she developed a program for postpartum women and is currently a PhD candidate studying tactical athletes. She holds several certifications under her belt and enjoys helping others achieve optimal health and wellness through her virtual coaching business which she runs with another military spouse.
She's a homeschooling mama to three (9, 6, and 5 months) and has three doggies running around. Kelsey and her family are avid campers and hikers. Odds are you can find her with a coffee or a stout in her hand!
Annie Pearce
Director of Marketing
Annie was born and raised outside of Pittsburgh, Pennsylvania (Go Steelers amd Penguins!). Annie met her husband Chris in Alexandria, Virginia, while he was assigned to The Old Guard. Three PCS'es later, they are living at Fort Drum, New York, while preparing for their second baby and another PCS.
Annie's passion for event planning has led her to volunteer for nonprofit organizations, including the AMA Triangle and Innovate Raleigh. She has served in multiple roles for large events including Event Director for Fail Fest Raleigh, Trade Show Manager for High Five Conference, and has managed multiple events for an economic development organization. Annie holds a Master of Science in Integrated Marketing Communication from Northwestern University and a Bachelor of Science in Integrated Marketing Communication from Ithaca College.
Lindsey Rauch
Deputy Director of Marketing
Lindsey is a madly-in-love Army spouse to her husband Matt, proud mother to her 6-month-old son Malachi, dog mama to her blonde husky-collie mix, and a business owner.
She has her MS in Family Marriage Therapy and MS in Mental Health and Wellness for Family and Marriage Dynamics from Grand Canyon University.  Lindsey is a speaker, blogger, mentor, and motivator.
Lindsey's husband joined the military after five years of being married as a civilian family, so she has a heart and passion for new military spouses who feel completely lost or foreign to military life. Additionally, she has a heart for military families with sick children, as she has struggled through the isolation of being at a foreign installation in a new city and trying to find support and the best health care for her child. She is now known as the Military NICU Mama.
In her free time, you can find her sipping on a good cup of tea, reading a book, being active, exploring the great outdoors, fishing, writing, or traveling the globe.
Jade Fusaro
Director of Social Media
Jade was born and raised in New Jersey. The Garden State had many things to offer Jade, including when she meet her fellow New Jersey husband on Veterans Day weekend in 2014 while he was home on leave.
Jade studied at Rutgers University, obtaining a Bachelor of Science in Exercise Science and Sport Management. In the past, Jade has worked in many industries, including sports athletics, management, restaurants, social media, and as a certified barre fitness instructor. Recently, Jade accepted a position in the financial department of a local trauma hospital.
Jade and her husband are currently stationed in South Florida, where they are again enjoying the beach, summer year-round, cortaditos, and being back on the East Coast closer to family. In Jade's spare time, she enjoys connecting with her family and friends, taking fitness classes, attending or watching sporting events, taking pictures of her cat, enjoying a good Italian meal, meditating, and learning something new.
Kayla Geblein
Deputy Director of Social Media
Kayla currently lives with her husband in Fort Benning, Georgia. She is a dog mom to her two pups, Ralph and Georgia.
Kayla graduated from Niagara University with a Bachelor's in Social Studies Education and Special Education, then attained her Master's in Literacy Education. She has taught in Georgia and at her previous duty station, Fort Bliss.
Originally from Buffalo, New York, Kayla and her husband are avid Buffalo Bills fans and try to attend as many games as they can! After living in Texas, she found a new love for barbecue and has since become quite good at smoking her own meats.
Kayla enjoys reading and doing puzzles, but when her husband is around, they enjoy movies and an occasional video game. Volunteering has been a part of her life as far back as she can remember, and she is very excited to start with Mission: Milspouse!
Morgan Farr
Graphic Designer
Morgan is a Texas-loving, succulent-cultivating book nerd and aspiring author. As an Army spouse, she has learned to lean heavily on Christ while walking this military life.
Morgan and her husband have four young children and two fantastic working dogs. As a jack-of-all-trades, Morgan is always learning something new. When she isn't homeschooling her children, writing for Christian publications, or training her Dutch Shepherd, Morgan can be found listening to Texas country music while lifting weights, reading, or cheering on the Texas Aggies.
Morgan is best known for her structure, discipline, and organization. She uses these skills as the Director of Publishing for Planting Roots and in various positions within Protestant Women of the Chapel. You can connect with Morgan on all major social media channels using her handle @morgandfarr.
Amanda Bicknese
Director of Empowerment
Amanda officially became a military spouse in 2014. She is a mom to two tiny humans, William and Mikayla, and two fur babies. Amanda is from Florida, where she and her husband, Mick, met in high school and began dating during their freshman year of college. She holds a Bachelor's in English Literature from the University of Central Florida and a Master's in Teaching Elementary Education from North Carolina State University. Amanda has served in education for a decade, but she is currently working as a freelance book editor and a virtual Chief Executive Assistant while staying home with her little ones.
In her spare time, Amanda enjoys writing, reading, hiking, traveling, trying out new restaurants, and exploring new places and activities around her. Amanda is very happy to be a part of such an amazing and supportive community and hopes she can provide encouragement and empowerment anywhere she goes.
Amie Fisher
Deputy Director of Empowerment
Full-time Army spouse and mother of three, Amie is a certified Life Coach and Retreat Speaker. Amie has led SFRGs, served on various leadership teams, spoken at Army Strong Bonds Retreats, and mentored other military wives through 23 months of combat deployments. She led her family through 12 PCS moves in 16 years of active-duty service. She is also a proud military "Coastie" mom.
Amie has served alongside Ron, her husband of 25 years. Recognized by the National Infantry Museum and the Fort Benning Infantry Community, Amie is a recipient of the Shield of Sparta. She is also a contributor to the book From Reveille to Retreat, a handbook for the Army Chaplain's spouse. 
Amie enjoys spending time with her family at the beach, crafting, reading, traveling, and cooking. She loves making new and enduring friendships around the world and helping these friends connect with one another for the betterment of the home mission.
Katie Henke
Empowerment Ambassador
Katie, originally from Michigan, is an elementary math teacher and sometimes soccer/track and field/rowing coach. She has been married to her Army husband for 17 years and been along for the journey as a military spouse for 14 years. The Henkes, who met at Kansas State (EMAW!), have five children and two energetic dogs and can often be found at a scout meeting or event of some kind or the soccer/softball fields.
They have been stationed at Fort Benning, Fort Bragg, Fort Leavenworth, Nellis AFB, Elgin AFB, and are currently at Fort Gordon/Eisenhower, and they have lived in nine different houses. They still have that bin of cords that can never be parted with and a box of pictures that couldn't properly fit on any walls in their current house.
She has enjoyed volunteering at various duty stations by being a part of and leading various FRG/SFRG groups and volunteering as a neighborhood mayor. In her spare time (what spare time?), Katie loves to read, travel, explore new hiking trails with the kids, try new food, and plan house projects. Attempting a vegetable and herb garden is next on the list.
Mission: Milspouse is a
501(c)3 nonprofit organization.
EIN Number: 88-1604492
Contact:
hello@missionmilspouse.org
P.O. Box 641341
El Paso, TX 79904