Did you know… Mission: Milspouse has more than 100,000 online followers!
Mission: Milspouse originally began as Army Wife Network founded in April 2009. At that time, it joined together what was previously known as Army Wife Talk Radio (est. 2005), Field Problems, and Loving A Soldier blog.
In the last 18 years, our following has drastically expanded to also serve and support those connected to the military, including male spouses, mothers, fathers, children, friends, veterans, service members, and military-related nonprofits. The resources we provided soon bloomed to serve all military spouses of all branches and all components. 
As a result of this growth, Army Wife Network fully rebranded to become Mission: Milspouse in January 2023. Now we are a fully-vetted 501(c)3 non-profit organization!

To globally empower military spouses with resources and support them to conquer adversity, foster confidence, and thrive in this military life
We facilitate the transformation of milspouses from feeling deprived to unshakably empowered.
We've been there. You aren't alone.
Never doubt the strength of our military spouse tribe.
We expect excellence grounded in integrity because what we do matters.
We pursue progress over perfection by embracing the suck.
Our commitment to serve military spouses is written in ink.
 No matter what you are facing, we've got your six.
Primary Colors (Red, Blue, and Yellow):  In military life, the military spouse may feel "secondary" or as an afterthought. But here at Mission: Milspouse, the military spouse is our primary focus.
Chevrons, star, and double bars (Beside "Milspouse"): These symbols represent the service member ranks of the spouses we support… From junior enlisted, senior enlisted, company grade officers, field grade officers, general officers, and warrant officers, we support spouses of all service member ranks and experiences.
Large red "S": Military spouses often serve behind the scenes, but we are here to help them stand out and be proud of what they bring by supporting our service members. We see you, military spouse—supporting your service member and the mission.
Heart Semicolon:
Military life may feel like a "hard stop" sometimes as we "hurry up and wait," but the love for our service members helps us embrace that pause while also remaining ever-ready to move forward again when the time (finally!) comes.
Rope:
The rope represents the strength of the military spouse tribe; when more than one strand is woven together through trial, adversity, and subsequent triumph, that cord becomes stronger and stronger, not easily broken.
Circle:
The circle is the continuation of all generations of military spouses, past, present, and future. The circular pattern also mimics the crests of ALL branches and components, which is who we are here to serve: Army, Air Force, Navy, Marines, Coast Guard, Space Force, Active Duty, National Guard, Reserve, Retired, and Prior Service.
Add some strategy to your time online and connect with us on social media! We have a presence on Facebook, Instagram, Pinterest, Twitter, and LinkedIn. We share information, graphics, and other helpful links on the daily. Plus, our Command Team is always on the lookout to bring you some great reels! Find us @missionmilspouse.
We are here to elevate other milspouse organizations, milspouse authors, and partners who have a message to share with our community. Mission: Milspouse invites you to collaborate with us by becoming a podcast guest, volunteering as a blogger, or contributing as an individual, small veteran/milspouse-owned business, or corporation.
The Mission: Milspouse Command Team are all volunteers. Logging thousands of hours per year, this team keeps the empowerment coming through the decades. Learn more about the individual members of our Command Team HERE.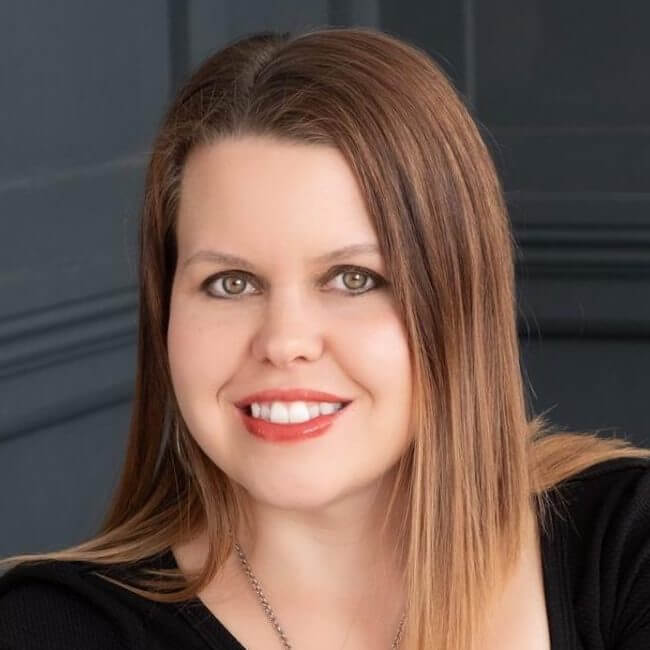 Sharita Knobloch, EdD
Executive Director: October 2019-Present
Dr. Sharita Knobloch is the current Executive Director of Mission: Milspouse (formerly Army Wife Network). She began serving with this organization in February of 2014 as a blogger, and as they say, things escalated quickly from there.  Sharita is an Army spouse of  12+ years, a mama of two young kiddos (4th grade and kindergarten), a small dog owner, an aspiring runner, and an avid reader. Sharita is also a Dissertation Chair in the Department of Community Care and Counseling at Liberty University. In 2020, she was named Armed Forces Insurance Fort Bliss Military Spouse of the Year. 
"I've been affiliated with AWN [now Mission: Milspouse] at a variety of levels for the past nine years. With all of the changes in military spouse life, I believe the longevity and consistency of this organization say a lot. Time and time again, milspouses have shared how we've been a valuable resource and vessel of encouragement, especially when they're just starting out on this milspouse journey. It is an absolute privilege to lead our team, and with support from our partners, we look forward to a future of continued empowerment of military families around the globe."
Crystal Niehoff
Owner & CEO: January 2016-September 2019
Crystal Niehoff is married to her best friend, Army Chaplain (Lt. Col.) Kevin Niehoff, and is the proud mom of five and grandma of three. Former Owner and Chief Executive Officer of Army Wife Network and host of Army Wife Talk Radio and AWN TableTalk (Jan. 1, 2016-Sept. 30, 2019), Crystal holds degrees in child development and business administration, previously working in child welfare. Additionally, she holds certifications as a Christian minister from Logos University and SBD doula and birth and bereavement chaplain. In 2014, she founded Heartstrings Ministries, providing grief support for military families enduring pregnancy loss in any trimester. Her ebook, Dads & Bereavement, may be obtained through Still Birth Day.
Crystal has written extensively for nonprofit organizations, including TFI Family Services, Inc., CASA for Children, Bethany Christian Services, and Rainbow Kids Adoption & Welfare Advocacy, through which she shares her expertise on parenting, foster care, and adoption. She is also a contributing writer of From Reveille to Retreat: The Journey of a Lifetime, published in 2015 by the United States Army.
Currently, Crystal is an entrepreneur, author, SBD Birth & Bereavement Doula®, and chaplain, and is studying to become a professional life coach with a heart for helping military spouses in transition as their service members process out of the military.
In her not-so-spare time, Crystal enjoys volunteering, researching, traveling, and spending time with her family. Crystal is available for interviews and speaking engagements. You may reach Crystal via email at crystalniehoff@gmail.com.
Tara Roos
CoFounder: April 2005-December 2015
Tara Roos (Crooks), cofounder of Army Wife Network, began her journey with the military in 1998 by marrying her best friend. She will admit she "checked in" to military life on a whim during one of her husband's deployments in 2005 with the creation of her first podcast, Army Wife Talk Radio. Army Wife Talk Radio continued under Tara's leadership through 10 years of broadcasting and inspired the creation of Loving A Soldier blog, Field Problems, Field Exercise, and eventually, Army Wife Network. Tara served as an avid blogger and speaker for many military organizations and has stories featured in Household Baggage Handlers and Stories Around the Table. She is a co-author of 1001 Things To Love About Military Life.
Tara is the proud mama of Wren and Chloe Crooks. She and her then husband, Lt. Col Kevin Crooks, U.S. Army (retired) have since divorced but remain amazing friends, coparents, and supports to one another. She was married to the military for 20 years and treasures every one of them. Tara enjoys decorating, crafting, baking, and home improvement. She is an avid NHL fan and loves her dogs.  She is known as a glass-half-full kind of gal who can craft a serious belly laugh. Once she sat still long enough, she earned a bachelor's degree in business administration and human resource management and in 2022 went on to earn her Masters of Curriculum and Instruction of Mathematics.
Tara holds the distinction as one of Military Spouse Magazine's "Who's Who Among Military Spouses" for 2009, and she was named the American Legion Auxiliary "Woman of the Year 2008." In May 2013, Tara was honored as the Armed Forces Insurance™ Army Spouse of the Year. In December of 2015, Tara sold AWN as their family was retiring and she was on a mission to become a full-time educator in Texas. What she is most proud of is attaining the goal of her military journey—to empower military spouses to make the most of their lives. She is beyond grateful for her military family and the AWN Core team that will forever live on in her heart.
Starlett Henderson
CoFounder: April 2005-October 2013
Starlett Henderson, AWN's first "executive officer (XO)," is both an Army veteran of full-time and Army Reserve components and an Active Guard Reserve (AGR) military spouse. Her journey with the military began with writing daily letters to a high school friend at Basic Training in 1989. She joined the Army in 1993 and later married that "friend" in 1995. 
While on Active Duty, Star achieved the rank of Captain in Military Intelligence where she supervised teams with diverse skills and backgrounds and even led a small contingency of augmentees during their deployment to Bosnia. Between leaving the military and serving as AWN's XO, she worked briefly as a budget analyst with the Department of the Army and later earned her Master of Arts in Professional Counseling.  
Starlett's desire to return to service for military members and their families drew her to partner with Tara and they became fast "battle buddies."  Crooks & Henderson were featured on CBS News, FOX Report, and in magazines such as USAA magazine, MOAA magazine, and American Legion's HOMEFRONT magazine. They are coauthors of 1001 Things to Love About Military Life, with several individual book contributions on their resumes as well. 
Starrlett's husband David retired in December 2020. Together, they have two adult children, Thomas and Tara. The Hendersons have since chosen Western North Carolina as their home where they both own a Fibrenew franchise, serve their community, fellowship weekly with a new nonprofit veterans group 828 VETS, and Starlett pursues a doctorate in community care and counseling through Liberty University. 
Mission: Milspouse is a
501(c)3 nonprofit organization.
EIN Number: 88-1604492
Contact:
hello@missionmilspouse.org
P.O. Box 641341
El Paso, TX 79904