Our Speaking Team is a carefully curated group of team members with a desire to share specific subject matter knowledge with a live audience, whether virtually or in person. Our team members have a combined total of 55 years of public speaking experience on a variety of topics, including military life, volunteering, motherhood, resiliency, leadership, mental health, and more. To request a Mission: Milspouse Speaking Team member for an upcoming event, please email hello@missionmilspouse.org.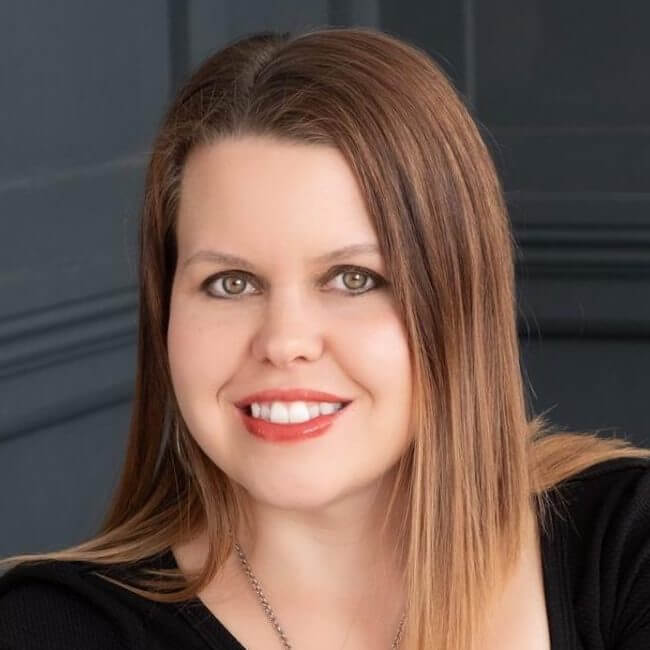 Sharita Knobloch, EdD
Executive Director
Sharita Knobloch has long been a fan of sharing her heart and passion with audiences of all backgrounds and beliefs. She has two decades of speaking experience and started out "back in the day" speaking at various leadership events in FFA, once delivering a keynote address to an audience of more than 2,000 people. In recent years, she has written and facilitated a variety of leadership workshops and given presentations on educational topics in pursuit of her doctorate of education from Liberty University. She has also served on the preaching team at her local church for the last two years. Sharita thoroughly enjoys weaving humor (and the occasional well-placed pun) into her presentations and always hopes that her message leaves listeners inspired, encouraged, and empowered. In her current season, supporting the military community is her "jam." 
Speaking Experience: 20 years 
Expert Topics: Leadership, faith, resilience, mental health, empowering volunteers, encouragement
Current Location: Fort Bliss/El Paso, Texas
Jolene McNutt
Deputy Director
Jolene began public speaking at a young age, thanks to her parents' encouragement to take any and all opportunities that came her way, from competing in forensics to volunteering with their local fire department. She graduated from the University of Wisconsin-Madison with a Life Sciences Communications degree. Her education helped her hone her writing and marketing skills, taught her to craft a message for an audience based on their interests and perspectives, allowed her the room to add her own sparkle and humor to her work, and built her confidence in working with media, including newspaper, radio, and TV. Upon graduation, Jolene took on the role as American Honey Queen, the national spokesperson for the American Beekeeping Federation. After that, Jolene worked in marketing until she chose to stay at home with her son. Her marketing career expanded her experience speaking to audiences one-on-one, in small groups, and leading forums and lessons in lecture halls. Jolene has experience working with media and podcasts, curating a message for audiences from kindergarten through adult, and presenting in both small and large group settings.
Speaking Experience: More than 20 years
Expert Topics: Military life, food allergies, volunteering, faith, encouragement, resilience, family travel, hosting guests
Current Location: Fort Bragg, North Carolina
Amanda Bicknese
Director of Empowerment
Amanda Bicknese has been an educator for seven years. She has a Master's in Elementary Education and has given presentations on educational topics as well as presented to other educators in various teacher leadership roles. She's ready to expand her role and speak to others outside of the educational and classroom realm. Amanda is a mom and military spouse who has battled anxiety for years. She seeks to share her own mental health journey to let others know that they aren't alone. Through transparency and authenticity, Amanda approaches her audience with a genuine heart and an open-mind in hopes that her message will leave others with the same.
Speaking Experience: 5 years 
Expert Topics: Education, growth mindset, motherhood, resiliency, mental health—anxiety, encouragement
Current Location: Fort Carson, Colorado
Kathleen Palmer
Director of Content
Kathleen began her public speaking journey at Battle Mountain High School, where her beloved seniors asked her to be the guest speaker at their 1996 high school graduation, and she hasn't stopped talking since! She has spoken at a variety of events, from motivational speaking at sports camps, FRG and Spouses' Club meetings, and banquets, to military benefit briefings to soldiers and spouses. Kathleen has parlayed her 28 years as a teacher and coach into her love and support of military spouses. In that realm she has facilitated FLAGS Leadership Training at the Army War College and co-chaired the 2018 Spouse Project to include a range of video and resources called 
The Mighty Military Spouse
. She has recently presented at the 
2022 Pillar Deployment Retreat.
 She currently writes and creates podcasts for Mission: Milspouse. You can listen to some of her podcasts 
here
.
Speaking Experience: 26 years
Expert Topics: Military life, leadership and motivation, battle buddies, mental health, caregiver issues, and military life
Current Location: Charlottesville, Virginia
Lindsey Rauch
Content Curator
Lindsey is a seasoned and professional speaker specializing in empowering, motivating, and educating. She began her speaking career when graduating with her Bachelor's in Communications and continued as she progressed in her education to obtain two Master's degrees in Family and Marriage Therapy. Since completing her education, Lindsey has traveled across the country to various speaking engagements. She has spoken for multiple nonprofit organizations, educating and training companies, in front of members of Congress proposing change across the globe, and hosting workshops and keynote speeches for personal and religious events. Lindsey has a heart and passion for military spouses, mothers, and those walking through seasons of trials, speaking on faith and empowering women. Her speaking style is warm, conversational, and convicting and gets to the heart of the matter. She is ready to empower, engage, and equip your audience to amplify their communication, connection, and confidence to be their best selves and, in turn, go out and change the world.
Speaking Experience: 11 Years
Expert Topics: Motivation, overcoming trials, faith, relational success, personal change and growth, mental health, therapeutic practices and education, motherhood
Current Location: Fort Bliss/El Paso, Texas
Amie Fisher
Deputy Director of Empowerment
Amie is a credentialed life coach and sought-after retreat speaker. Her presentations inspire audiences to challenge their status quo, cultivate their inner strength, and channel their energies to face and overcome whatever life throws at them. A lifelong learner, Amie was one of 50 (out of 900 applicants) selected to attend the 2022 McChrystal Group Military Spouse Leadership Development Program in cooperation with Harvard University and Psych Hub, the world's largest mental health education platform. As a military spouse, Amie has served with her husband of 26 years in some of the Army's most premier organizations, including Special Operations. She has led small-group training, spoken at retreats, and most recently wrote and facilitated a course for teenagers on developing emotional intelligence and essential life skills. Amie is also a contributor to the book From Reveille to Retreat, a Handbook for the Army Chaplain's Spouse. When not coaching or teaching, Amie spends time with her family and mixed cockapoo Lucky.
Speaking Experience: 24 years
Expert Topics: Emotional intelligence, personal growth, professional development, communication, and leadership
Current Location: Fort Campbell, Kentucky
Mission: Milspouse is a
501(c)3 nonprofit organization.
EIN Number: 88-1604492
Contact:
hello@missionmilspouse.org
P.O. Box 641341
El Paso, TX 79904